Old and lovely Antique vintage dollhouse miniature lady mother china doll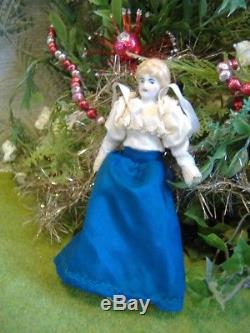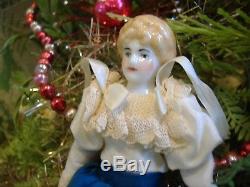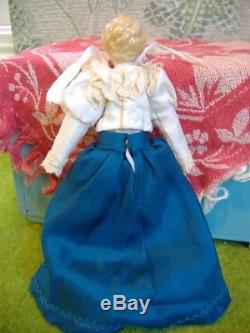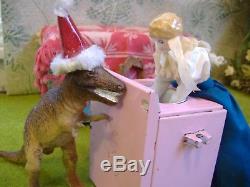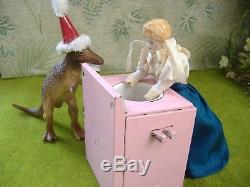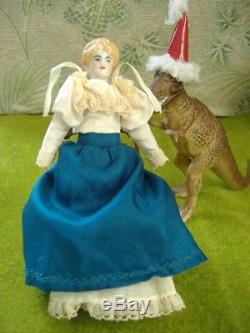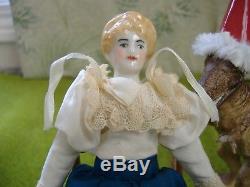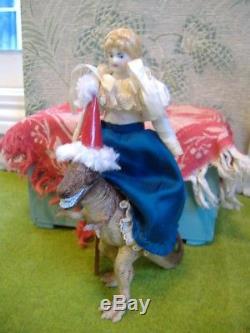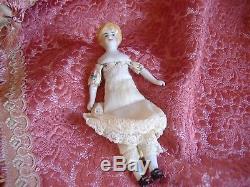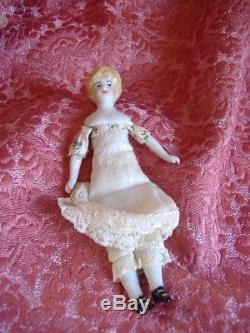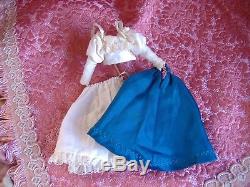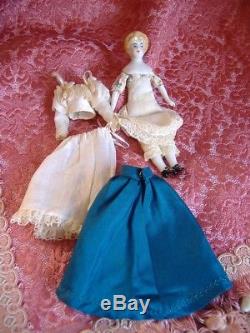 Old and lovely Antique vintage dollhouse miniature lady mother china doll. It's Your Christmas Present! No dollhouse can be complete without delightful inhabitants, and this old girl well, she is. 19-teens, to judge by her shoes. Might be a leeeeeeeeetle older, unlikely she's very much younger.. is about as delightful as they come.
For one thing, she's delightfully. Which sets her apart from typical antique dollhouse mothers. Her porcelain is smooth and fine, with a lovely luminous quality, and she has an expression characteristic of mothers everywhere, animate and otherwise: calm and determinedly composed-- even while she is putting up with that tiresome and pesky Tyrannosaur. When will you kids ever learn to close the back door after yourselves? All sorts of terrible things could get in-- such as this Tyrannosanta, will one of you please take him out of here???
Still, she's got things under conrol, even though it's difficult to get laundry (or anything else) done when someone is hiding behind the washer, trying to sneak up on a person. On the other hand, when pictured with her little togs, she looks happy and relaxed. She does not appear to be all that sure she likes being taken for a ride, yet she doesn't appear to be panicking, which speaks well for her character.
That, or else she is simply gifted with awesome powers of self-control. This attractive china person is. Or dings or cracks to take away from her prettiness. Her arms and legs are finely modelled; her china skin is luminous, and she has the nicest little stuffed body made of a charming cotton print. (most of it, anyway), consisting of a gored silk skirt with feather stitching at the hem, a highly-detailed cotton blouse with a miniscule yoke of paneled lace and a frill of dainty lace to finish, also Victorian leg-o-mutton sleeves trimmed with silk-ribbon shoulder ties untied; careless of me.
Or maybe that dinosaur made her flighty and she failed to notice her deshabille? Her tiny outer petticoat is fashioned with the world's daintiest drawstring waist.
These three pieces were custom-made by a highly accomplished seamstress who is emphatically Not Me. I did make the pantalettes and the underpetticoat, each of them trimmed with a double row of narrow, dainty heirloom lace.
Dunno what made me stitch them on: it happened a long, long time ago, and some of my previous motivations are impossible to remember now. Probably I was trying to avoid adding too much bulk at her waist: she's an elegant little thing, shame to thicken her through the middle. Probably that's what I was thinking. Not sure, but I do know she looks very nice in her handmade attire.
She's also just the perfect size, at not quite. Tall, to live in a standard 1:12 house and boss all the rest of the dollhouse persons, because a Mother Must Be Queen. I regret to say, she does carry a modest reserve, but only a small and sensible one. But this is because she is VERY SPECIAL-- just the sort of antique person you need for That Very Special Dollhouse.
And also, she wants to come play with you. I know, because she told me so. Washer and fabric are staying here, and so is the Santasaurus Rex. Any anyway, I have to keep. Thank you so much for your understanding.
It would not be festive to refuse. DO NOT DUPLICATE OR COPY! The item "Old and lovely Antique vintage dollhouse miniature lady mother china doll" is in sale since Wednesday, November 21, 2018. This item is in the category "Dolls & Bears\Dollhouse Miniatures\Doll House Dolls".
The seller is "shirleyeugest" and is located in Portland, Oregon. This item can be shipped to United States.
Brand: Unbranded
Type: Lady, Women
Features: Antique
Scale: 1:12
Material: Porcelain