Antique Baby Doll Bisque/Porcelain Head, Cloth Body 16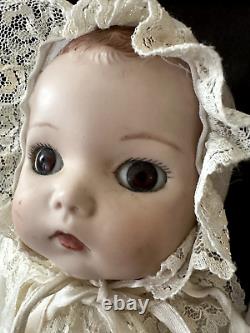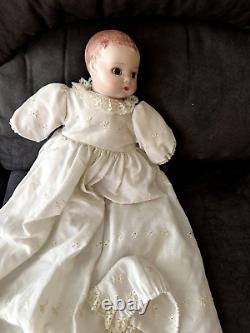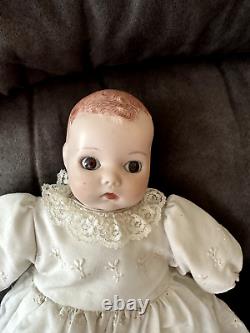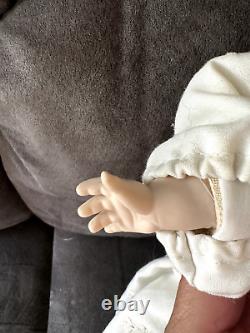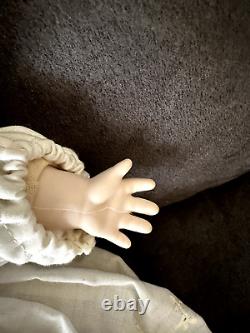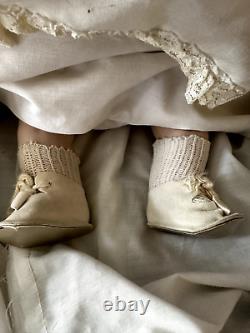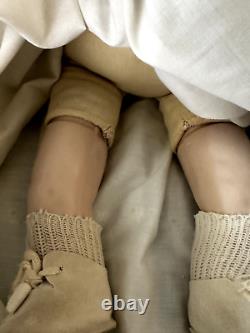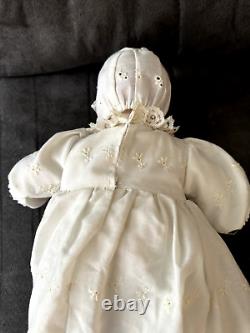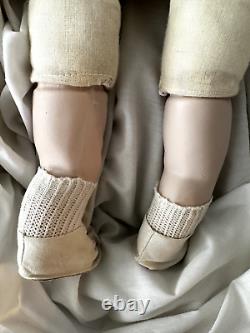 Vintage Baby Doll - Bisque Head, Hands, Feet - Christening Dress and Cap. Up for sale is a charming vintage baby doll with exquisite craftsmanship, featuring a bisque (porcelain) head, hands, and feet, elegantly paired with a soft cloth body.
This darling doll is believed to be a Grace Putnam creation, but no markings have been found on the body. It is unsure of where she came from as my family member is no longer alive to ask. She passed a long time ago, and no one remembers the location on where she was bought. Again, no name or markings have been found.
Bisque Head, Hands, and Feet: The delicate bisque porcelain features fine detailing, giving the doll a lifelike appearance. The warm, realistic brown eyes add a touch of character and charm. Cloth Body: The soft and cuddly cloth body provides a comfortable and huggable feel, making it a delightful addition to any collection or as a cherished playtime companion. Christening Dress and Cap: This adorable baby doll comes dressed in an elegant christening gown and matching cap, showcasing timeless style and grace. The ensemble adds an extra layer of authenticity to this vintage treasure.
This beautiful doll holds a special place in our family's history, and we're sure it will make a wonderful addition to your doll collection or brighten the life of someone you love. Whether you're a seasoned collector or just beginning your journey, this vintage Grace Putnam baby doll is a timeless piece that captures the essence of a bygone era. Don't miss the opportunity to bring home this exquisite treasure.
Height: 16 from head to feet. This doll is in excellent condition, with only minor signs of wear consistent with its age. Please refer to the detailed photos for a closer look.
Thank you for considering our beloved family heirloom for your collection.