Cathay Collection Victorian Porcelain Doll Brown Lace Dress Coat Hat 20 Tall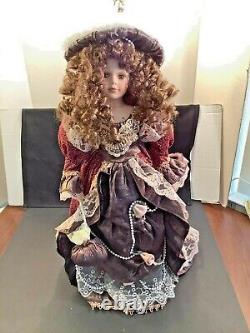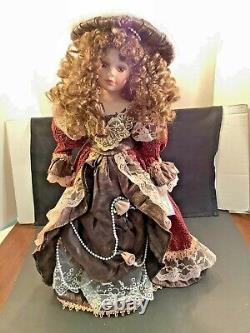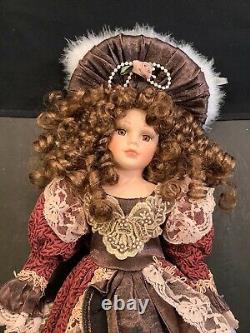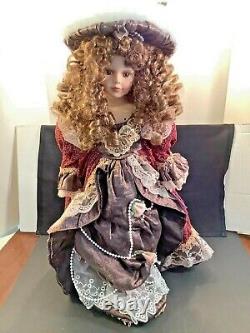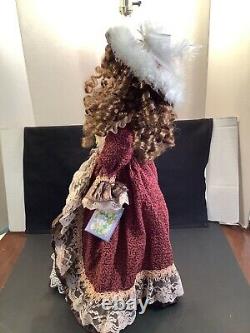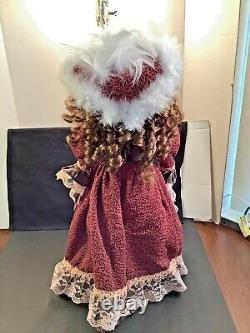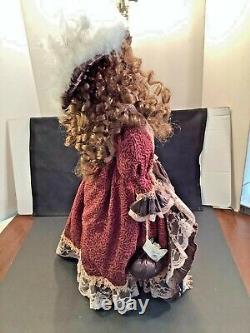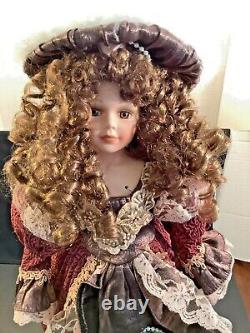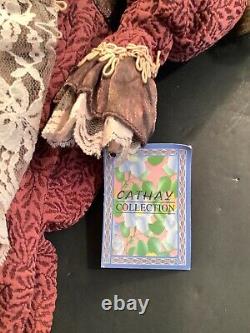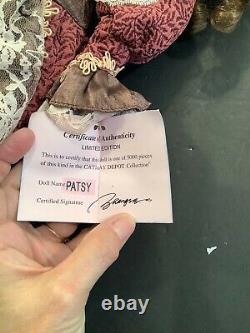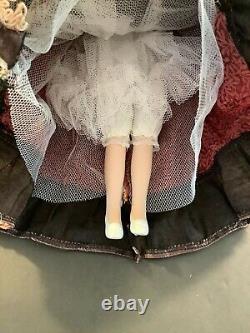 Please read the description, review the condition notes, look at the measurements, preview all photos carefully and ask questions if needed before purchasing. If you see any mistakes or are confused about anything in the listing description, please bring it to our attention. DESCRIPTION: Beautiful Vintage 20 Victorian Doll Porcelain Brown Lace Dress Coat Hat.
Doll stand not included, BUT If I can find one, I will include it in the sale. The fabric and details on this doll is superb. Her hair is in great shape. No chips or cracks in the porcelain. Measurements are approximate and described as closely as possible.
We suggest comparing measurements with a garment you already own to ensure proper fit. If you need exact or different measurements, please message us. We have inspected this item carefully and found it to be in very good condition prior to listing it.
See PHOTOS and CONDITION NOTES for details. Lisa's House of Treasures.
New listings (sort by "newly listed items") are posted daily. Take advantage of our weekly sales events, monthly promotions, and exclusive special offers. We run sales every 48 hours with discounts from 10% up to 40% off the retail list price on Select Items in our store, and also have monthly promotions. We don't have a lot of room for negotiation with the deeper discounts; however, we will do our best to give you our lowest and best possible price either with the sales discounts or when offers are made or received.
We will consider and respond to Reasonable offers only. We reserve the right to submit a counteroffer or decline an offer if it is not reasonable.
If we send you a counteroffer, it will always be at our lowest and best possible price. To save us both time, please consider any markdown (% off) on sales and promotions already being offered on an item when making your Best Offer. If you change your mind, no worries!
All we ask is to please message us and ask us to cancel the order instead of just not paying for it to be fair to us and other interested buyers - thank you! Otherwise, we may cancel the order.
Age will be listed if known. If not, then if the listing says "vintage", we presume it to be 20 years old or older (before 2003). If it does not say "vintage", then we presume it to be less than 20 years old 2003 to present. Our Camera may not capture the true color of an item in photos; could be lighter or darker, more vivid, brighter, have different hues etc. We will try to describe the color in the description as our eyes see it to the best of our ability, but feel free to ask for more photos or more details if needed prior to purchasing.
We take pride in the merchandise we offer for sale and HAND SELECT each item we sell for its best use, highest quality, beauty, uniqueness, rarity, desirability, value, and overall condition. Do we sell items that are ripped, torn, stained, chipped, cracked, damaged, etc. Unless the flaw is so slight that it does not detract from its beauty or functionality or is deemed safe to use. We will disclose any known flaws in the condition description and provide photos. We will also mark "As is" in the Title. Please see "Preowned Condition" for more details. Most items we sell are pre-owned. Gently used or vintage (20 years or older) and may have slight imperfections or light wear and tear due to age or prior use. Some items we sell although preowned are in like-new condition. We will describe the item's condition "as we see it" at the time we listed it to the best of our ability and knowledge and will provide photos; however, we may not capture everything exactly. Items that have slight imperfections or flaws, will be disclosed in the listing's Condition Notes, and have "As Is" included in the Title.
We do wash, iron, clean, dust, sterilize, freshen, polish, etc. Some vintage items we leave alone and sell "as they are".
Please see "Quality Control" for details. Most of our jewelry for sale is preowned costume/fashion jewelry; contemporary or vintage. We hand select each piece for its beauty, condition, and best quality for what it is. Some pieces are marked; most are not.
We test, research, and clean the jewelry (if needed). We are not jewelry experts but are learning! We know some things about some jewelry but not all things about all jewelry. We will describe the jewelry pieces to the best of our ability and knowledge at the time of listing and provide photos. If you know more about a piece we have listed or find our description to be vague or inaccurate, please let us know!
It is not our intention to misrepresent anything that we sell. SHRINKAGE ALLOWANCE FOR PREOWNED CLOTHING. Pre-owned clothing that is machine washable or made of a fabric like 100% Cotton more likely than not has been washed and dried one or more times prior to our obtaining them. And we most often wash, dry, and/or freshen the garments one more.
Time according to their care instructions to prepare them for resale. Please be aware that some shrinkage may have occurred over time during these cleaning processes.
Refer to the measurements and view all photos before purchasing. Please see "Making Offers/Accepting Offers" and "Order Cancellation Policy" for more details.
Return requests will be reviewed and considered on a case-by-case basis. We reserve the right to accept or decline a return request, or we may offer you other options. We make every effort to fully describe each item, take photos from different angles, provide measurements, give as much detail about the item as possible, tell a story if we have one, and sometimes provide suggestions and ideas for using the item.
We will provide full disclosure regarding chips, cracks, rips, tears, stains, snags, or any other imperfections. If an issue arises, we will do everything we can to work with you to arrive at a fair and equitable resolution. However, mistakes can and will happen.
Please let us know right away if an error has been made. Please be assured that we will do everything we can to fix it quickly.
We'd love to hear your thoughts about your experience doing business with us! We want you to have a pleasant experience and will work with you to ensure this happens. We look forward to having you join our growing family of satisfied customers!